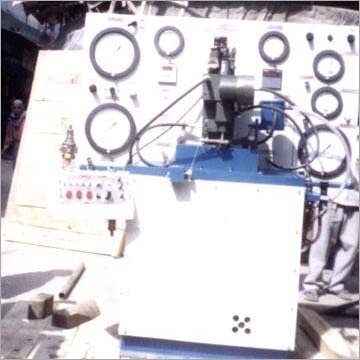 Price And Quantity
30000 - 40000 USD ($)/Piece

1 Piece
Trade Information
1 Piece Per Month

1 Months

Box

All India
Product Description
Our strength lies in our proficient team of engineers and dexterous workforce who helps us in manufacturing and supplying a wide range of Woodward Governor Test Bench. This bench is well attached with digital AC drive and measurement gauges. At our sound production unit, we manufacture this bench using optimum quality materials and components. Clients can avail our Woodward Governor Test Bench in different technical specifications as per their requirements.

Features:

Robust construction
High operational fluency
Longer functional life
Further Details:
SLVMR(INDIAN) Woodward Governor Test Stand Model WG-1 is one of the most advanced governor test stand equipped with state of art digital AC drive and a number of other accessories with very highly accurate measurement gauges to provide very accurate setting of the Woodward Governors, particularly PG Governors of Railways.
Model WG-1 provides for testing, checking and adjusting of the Governor Pump Pressure, high speed and low speed stops, solenoid and AC/DC motor speed setting, droop setting, oil, air or water shutdown devices, hydraulic or pneumatic speed settings, limiter and load control functions, governor stability, major leakages and electric/hydraulic actuator.
Technical Specifications:
The basic Test Stand Model WG-1 is a sturdy machine, fabricated to support various different type of Woodward Governors with suitable mounting plate and adaptors.
Main Motor:
3HP, totally enclosed, with digital AC drive for exact setting of drive characteristic.
Operator Panel:
Provided with switches for:
Start/stop of main motor, its directions (cw/ccw)
Direct acting/reverse acting, speed centering, gain sensitivity
Load decrease/increase switches
Speed:
0 to 1800 RPM with quite stable speed control
Speed Indicator:
Digital 4 digits RPM indicator with a range of upto 9999 RPM, least count 1 RPM
Hydraulic System:
25 litre capacity tank, fitted with 1KW heater for maintaining the temperature of oil at about 93.3 degree Centigrade (200 degree F) complete with various hydraulic hoses to test the PG & PG extended type Woodward Governors, filters & relief valve
Hydraulic Pump:
To provide variable pressure supply as per the requirement, provided with separate 1/2hp AC motor, connected to various valves like pressure regulator, governor, fill, load control and governor drain, etc.
Hydraulic Drain:
Through the table to facilitate oil drainage without hassles and minimum spillage.
Pressure Gauges:
Test stand oil pressure master gauge, 100 psi, 1 psi least count, 4" dial, 0.25%
Governor oil pressure master gauge, 600 psi, 5 psi least count, 4" dial, 0.25%
Regulated air pressure gauge, 100 psi, 1 psi least count, 4" dial, accuracy 0.5%
Regulated air pressure gauge with selector switch, 100 psi, 0.2 psi least count 8.5" dial, accuracy 0.1%
Regulated air pressure gauge with selector switch, dual scale, 0-120" Hg, 0.2 psi least count, 8.5 dial, accuracy 0.1%
Regulated vacuum air pressure gauge, dual scale, 0-120" hg, 0.2" least count 4" dial, accuracy 0.5%
Variable DC Power Supply:
140V DC variable power supply for testing electric speed settling and solenoid devices with digital display of voltage and external output (+) and (-) jacks.
PG Rail Switch Panel:
To test solenoid speed setting with A, B, C, D and Over Ride (O/R) switches with test points for minimum field, wiper and maximum field feedback and indications for low water, lube oil, pressure limit and overload condition.
Vacuum Generator:
Based on Venturi principle, to be connected to a minimum 80 100 psi air supply provided vacuum upto 18" Hg
Adaptors:
Suitable Base Adaptor, drive coupling and drive adaptor for PG Keyed (0.625"), Serrated (1.125"-48) and Alco PG Keyed, Alco Pg Extended keyed (Both 0.625")
Feedback Potentiometer: Portable potentiometer driven by a mono-filament line and return spring with linear output connected to the feedback, complete with universal lever.
Adaptors available for: PG Splined, PG Serrated and PG keyed Governors
Adaptors available for: UG 40 Keyed, UG40 Serrated Governors
Adaptors available for: UG8 Serrated, UG8 Keyed Governors
Adaptors Available for: Alco PG Keyed and PG Extended Keyed Governors
Technical Specifications:-
The basic Test Stand Model WG-I is sturdy machine, fabricated to support various different type of Woodward Governors with suitable mounting plates and adaptors

Main Motor

Model WG- 1

( 3 HP Main Motor )




Model WG-2

( 5 HP Main Motor)




Model WG-2

( 7.5 HP Main Motor )

All the models are fitted with digital Ac Drive for exact setting of drive Characteristics

Operator Panel

Provided with switches for
i) start/stop of main motor.
ii) direction of rotation (cw/ccw)

Speed

0 to 1800 RPM with quite stable speed control
0 to 3500 RPM (Optional through Gear Box)

Speed Indicator

Digital 4 digits RPM Indicator with a range of up to 9999 RPM, least count 1 RPM

Hydraulic Tank

30 litre capacity tank. fitted with 2 KW Heater for maintaining the temperature of the oil at about 93.3degree Centigrade (200 Degree F)complete with various hydraulic hoses to test the different type of Woodward Governors fitted with filters & relief valve (Other tank capacity as per customer demand)

Hydraulic Pump

To provide variable pressure supply as per the requirement provided with separate 1/2 h.p. a.c. motor connected to various valves like pressure regulator , governor fill. Load control and governor drain etc.

Hydraulic Drain

Through the table to facilitate oil drainage without hassles and minimum spillage.

Pressure Gauges

Test Stand Oil Pressure Master Gauge. 100 PSI, , 4" Dial, accuracy 0.25%




Governor Oil Pressure Master Gauge. 600 PSI, 4" Dial. accuracy 0.25%




Regulated Air Pressure Gauge. 100 PSI., 4" Dial. ,accuracy0.5%




Regulated Air Pressure Gauge with Selector Switch,100 PSI, 8.5" Dial., accuracy 0.25%




Regulated Air Pressure Gauge with Selector Switch. Dual Scale. (0-120"/0-150" Hg.




8.5:" Dial. accuracy 0.25%




Regulated Vacuum Air Pressure Gauge. -30" to .0" Hg. , 4" Dial accuracy 0.5%

Variable DC Power

35-140 V DC variable Power supply for testing electric speed setting and solenoid devices (OPTIONAL) with digital display of Voltage and external output (+) and (-) jacks.

PG Rail Panel Switch

To test solenoid speed setting with A.B.C.D& Over Ride(O/R) Switches with test points for (OPTIONAL) minimum field. Wiper and maximum field feedback and indications for Low water. lube oil pressure limit and overload. condition

Vacuum Generator

Based on Venturi principle. to be connected to a minimum 80-100 psi air supply Provides vacuum upto 18 " Hg.

(Optional/Spare Accessory)

Adaptors

Suitable Base Adaptor. drive coupling and drive adaptor for PG Keyed (0.625")Serrated (1.125"-48) and Alco PG keyed. Alco PG Extended keyed (Both 0.625")

Feedback

Portable potentiometer driven by a monofilament line and return spring with linear Potentiometer output connected to the feedback complete with universal lever.

Electric Connection

AC 415 V, 50 Hz.3 phase ( Other Optional Voltages on customer request)

Cable adaptors

GE& EMD ( 16 pin to 12 pin)
Enter Buying Requirement Details